Wildlife Managers Savoured Crocodile Cuisine in Palawan
September 25, 2013Puerto Princesa City, Palawan 
In pursuit of judicious implementation of RA 9147 otherwise known as Wildlife Protection and Conservation Act, the Wildlife Management Conference was organized by the Department of Environment and Natural Resources-MIMAROPA in collaboration with the Palawan Council for Sustainable Development Staff (PCSDS) last September 19, 2013 held at Hotel Centro, Puerto Princesa City, Palawan. The conference entitled: "Wildlife Management Conference: Safeguarding ecological and economic benefits of Palawan wildlife through Conservation, Protection and Sustainable use" seeked to ensure multi stakeholder collaborative action towards addressing current slacks in enforcing Wildlife Act in the province of Palawan.
CAVFI contributed as conference exhibitor and showcased various crocodile meat delicacies that attracted serious attention from the interested participants. About 250 wildlife managers, top government officials, environmental NGO's, policy makers, academician, and researchers took a bite of crocodile cuisine made from farm raised crocodiles.  It was an opportunity for CAVFI to educate public on the success of the crocodile farming industry and its crocodile conservation efforts.On 22 March 2013, 36 healthy juvenile Philippine crocodiles were successfully introduced into Paghungawan Marsh, Siargao Island Protected Landscape and Seascape (SIPLAS) in Jaboy, Pilar, Surigao Del Norte. The CAVFI or known as Coral Farm, one of the six (6) legitimate crocodile farm members of the Crocodylus Porosus Philippines Inc. (CPPI) in collaboration with the DENR-Biodiversity Management Bureau, National Museum of the Philippines and the Silliman University together with their partner Mun. LGU of Pilar, Provincial Government of Surigao, and the Dept. of Tourism spearheaded this successful and well-organized crocodile conservation introduction action.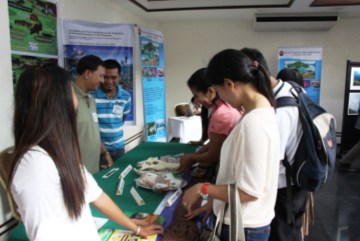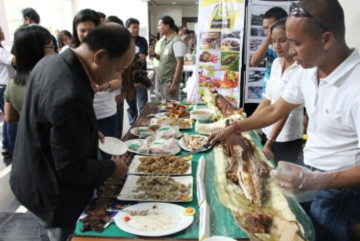 Exhibit showcasing CAVFI as an industry and its crocodile conservation efforts
CAVFI is working hand in hand with the Crocodylus Porosus Philippines Inc., DENR, local government units and other stakeholders towards conservation and sustainable management of crocodiles in the Philippines.