36 Philippine Crocodiles released in Siargao Island Protected Landscape and Seascape
On 22 March 2013, 36 healthy juvenile Philippine crocodiles were successfully introduced into Paghungawan Marsh, Siargao Island Protected Landscape and Seascape (SIPLAS) in Jaboy, Pilar, Surigao Del Norte.  The CAVFI or known as Coral Farm, one of the six (6) legitimate crocodile farm members of the Crocodylus Porosus Philippines Inc. (CPPI) in collaboration with the DENR-Biodiversity Management Bureau, National Museum of the Philippines and the Silliman University together with their partner Mun. LGU of Pilar, Provincial Government of Surigao, and the Dept. of Tourism spearheaded this successful and well-organized crocodile conservation introduction action.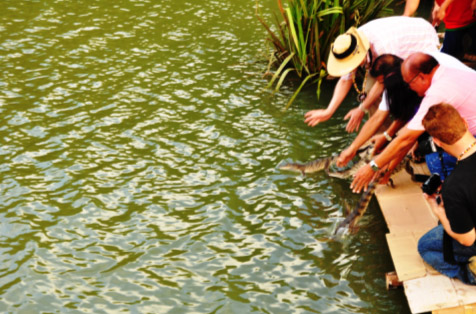 Released of Philippine Crocodiles in Paghungawan Marsh, Siargao Island. 2013.
Started in 2006, the released of Philippine crocodiles are part of the Philippine Crocodile Research and Conservation Program of the CPPI. Series of ecological surveys in Paghungawan Marsh and its immediate vicinities to assess suitability of habitat was conducted in 2 years. A series of public consultations were conducted in the impact areas (the villages of Jaboy and San Roque) which were attended by local officials and resident communities who subsequently endorsed (Bgy. Jaboy Res. No. 10, series of 2012 and Bgy. San Roque Res. No. 13, series of 2012) the Philippine Crocodile release program in Paghongawan Marsh. On 22 March 2013, 36 healthy juvenile Philippine crocodiles were successfully introduced into Paghungawan Marsh. Information education and communication activities were undertaken in nearby secondary and tertiary schools prior to release. The released was endorsed by the SIPLAS Protected Area Management Board (Resolution No. 2012-21), the Municipality of Pilar (Resolution No. 145, series of 2012), and had secured the clearance of Department of Environment and Natural Resources Secretary Ramon JP. Paje, which he signed on March 18 2013. The foregoing crocodile research and conservation effort in SIPLAS mark another milestone in the history of Philippine Crocodile conservation.
Post-release activities monitoring efforts revealed that most of the released crocodiles were observed foraging near each other among the aquatic plants at the release site without any evidence of aggressive behavior. On several occasions, some individuals were found searching for food under a limestone ledge surrounded by vegetation. Two individuals had reportedly died due to entanglement in fishing nets, and this led to the Barangay Jaboy local government banning the use of gillnets and hook-and-line fishing in the Paghungawan Marsh area.
The presence of released Philippine crocodiles in the area further contributed to the development of the Paghungawan Marsh as an area of Community-Based Sustainable Tourism, featuring natural serene  landscape, rich  biodiversity and a  'Crocodile Night Watch' tour, which is a main attraction. Other potential attractions in the area may include guided observations of several threatened and endemic fauna.