– DECEMBER 6, 2013       POSTED IN: FEATURED, PHILIPPINE NEWS, PHILIPPINES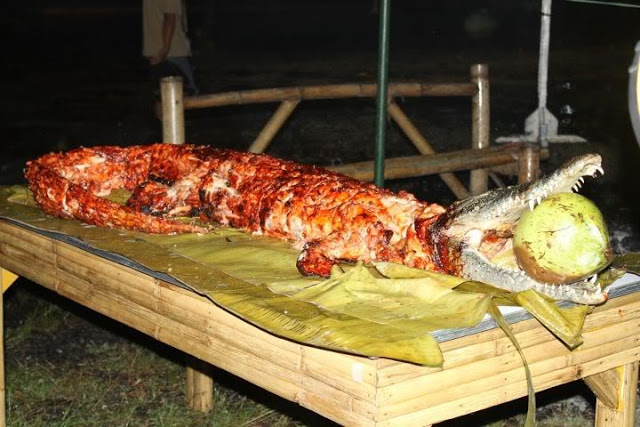 Instead of the traditional roasted pig ("lechon" in the vernacular), Filipino families may opt to have roasted crocodile, sans the apple in its mouth, as the main course for their traditional dinner on Christmas Eve this year.
A crocodile farm in Rizal province is now offering "lechon buwaya" at reasonable prices.
The Coral Agri-Venture Farm, Inc. (CAVFI) is the biggest commercial crocodile farm in the Philippines. It has 15,000 crocodiles in its Tanay, Rizal farm.
Its main product is crocodile skin, which it exports to other countries.
The company saw the potential in crocodile food industry and is now engaged in developing gourmet food products using crocodile meat.
The CAVFI's crocodile meat products under the brand Dundee are Croc Tocino, Croc Tapa, Croc Sausages, Croc Sisig, Croc Bicol Express and Crocodile Soup packed with Chinese medicinal herbs. The latest addition to their crocodile food product line is the exotic roasted crocodile.
 The crocodile's succulent white meat has a distinctive flavor and aroma. It is low in fat, low in calories and high in protein. CAFVI claims the meat is good for the heart and lungs and is a natural aphrodisiac.
Several months back, the CAVFI conducted free-tasting activities for their crocodile meat products and those who tasted roasted crocodile swore that it's tastier than roasted pork. Some likened it to roasted chicken because of its white meat.
The Philippine Department of Environment and Natural Resources (DENR) said they allow the slaughtering and eating of crocodiles as long as they are farm-bred and not from the wild. CAFVI has a special permit from the DENR for their crocodile business.
According to CAFVI's website, coralfarms.com.ph, the price for a lechon buwaya are as follows:
• 14-15 kilograms – P8,000
• 16-17 kilograms – P9,000
• 18 kilograms – P10,000
These 12 restaurants in Metro Manila are serving CAFVI's crocodile meat:
• Nueva Café inside Wilcon Builders Depot (1 in Las Piñas, 4 in Quezon City, 1 in Makati City, and 1 in Muntinlupa city).
• Krazy Garlic in Makati
• Krazy Garlic in Pasay City
• Hero Sausages in Tandang Sora, Quezon City
• Golden Bay in Pasay City and
• Golden Fortune in Quiapo, Manila
There are also 12 restaurants serving croc meat in Puerto Princesa, Palawan, three in Iloilo, three in Aklan, four in Cebu and one each in Negros Oriental and Cagayan de Oro.